APM Arducopter   Link
used as the flight stack, firmware on the LuminousBees flicht control (autopilot) board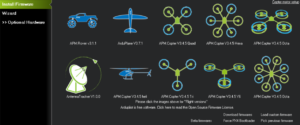 ArduPilot is a open source autopilot system supporting multi-copters, traditional helicopters, fixed wing aircraft and rovers.
Ardupilot is the most advanced, full-featured and reliable autopilot software available. It has been developed over 5 years by a team of diverse professional engineers and computer scientists. It is the only autopilot software capable of controlling any vehicle system imaginable, from conventional airplanes, multirotors, and helicopters, to boats and even submarines. And now being expanded to feature support for new emerging vehicle types such as quad-planes and compound helicopters.
Installed in over 1,000,000 vehicles world-wide, and with its advanced data-logging, analysis and simulation tools, Ardupilot is the most tested and proven autopilot software. The open-source code base means that it is rapidly evolving, always at the cutting edge of technology development. With many peripheral suppliers creating interfaces, users benefit from a broad ecosystem of sensors, companion computers and communication systems. Finally, since the source code is open, it can be audited to ensure compliance with security and secrecy requirements.
The software suite is installed in aircraft from many OEM UAV companies, such as 3DR, jDrones, PrecisionHawk, AgEagle and Kespry. It is also used for testing and development by several large institutions and corporations such as NASA, Intel and Insitu/Boeing, as well as countless colleges and universities around the world.
Mavlink
Micro Air Vehicle Link, is a protocol for communicating with small unmanned vehicle. It is designed as a header-only message marshaling library. MAVLink was first released early 2009[1] by Lorenz Meier under LGPL license.
Cinema4D
3D Animation software used to create the choreography

used as the realtime swarm Ground Station
custom network LEDs controlling system
is a hybrid visual/textual live-programming environment for easy prototyping and development. It is designed to facilitate the handling of large media environments with physical interfaces, real-time motion graphics, audio and video that can interact with many users simultaneously.